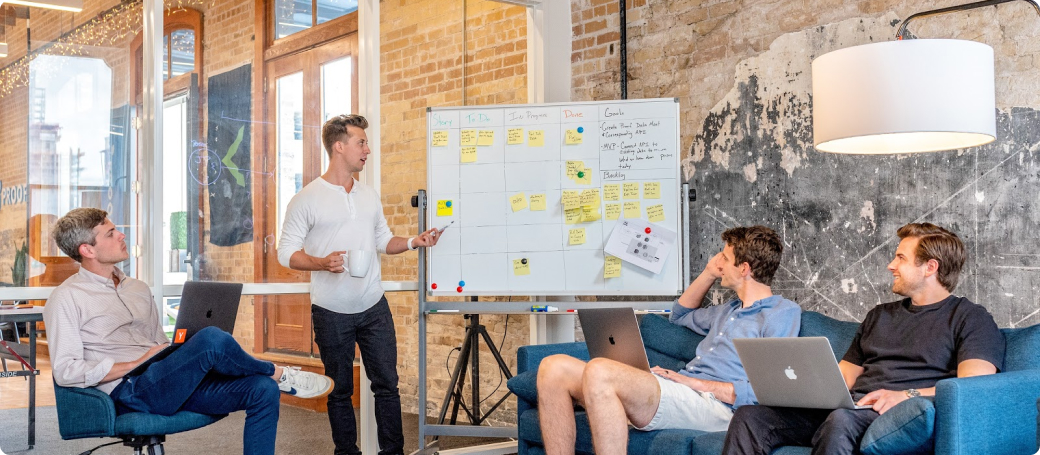 Agile methodologies have quickly become the strategy of choice for startup businesses worldwide. With agile methods, companies can work more efficiently and deliver the highest quality product within budget constraints. Global trends show that 60% of organizations experienced growth in revenues after adopting an agile approach.
Therefore, organizations must ensure that their sprint retrospectives are effective. A good reason why retrospective is important in agile is to identify process improvements that will make everyone productive.
However, running sprint retrospectives can be challenging as teams need to ensure complete transparency and higher engagement from developers. Outlined in this article are key retrospective challenges that every team faces when adopting an agile approach and tips on overcoming them.
1. Lack of Honesty and Communication
Transparency and honesty are essential in sprint retrospective to improve work. Unfortunately, people cannot admit to their problems or bring up genuine issues on retrospectives because of the lack of engagement. It can cause facilitators to waste their time and effort by altogether abandoning retrospectives.
Facilitators can resolve this issue by creating an environment that concentrates on the freedom to speak up and have everyone in a relative comfort zone. They can also try different dynamics and games which are more suited to everyone in the session. You should also ensure that all criticisms are constructive and admit when you've made a mistake to build better relationships with teams.
2. Stale Retrospectives
Developers often wonder what is the purpose of a retrospective if they are conducted the same way every time. With most developers being under a lot of pressure to innovate, sitting through a repetitive retrospective would be the last thing in their minds. While having standard ways to run remote retrospectives is widely acceptable, repeating the same combination of retrospective exercises can stunt productivity, motivation and eventually lead to boredom.
An excellent way to freshen up stale retrospectives is to change the questions you ask team members. You can also gather feedback from team members to generate insights. By sharing and understanding feedback collected since the last retrospective, team members can easily view which processes are working and not. This allows you to analyze feedback and create a plan to enhance retrospective exercises.
3. Inability to Capture Actions
One of the most common retrospective issues is its inability to capture actions or record and review the previous retrospective. Retrospectives are held at the end of each sprint cycle and in the general release so you can check your team's failures and successes. Failing to capture actions may hinder the goal of continuous improvement.
Therefore, you must use an agile project management tool to store and manage each action item. It also helps you put actions visibly and maintain a backlog that can easily be accessed by everyone in the team. Identifying an agile project management software that matches your workflows is vital in applying velocity to actions and monitoring progress so that you can only take what the velocity dictates.
4. Unsuitable Schedules
Long conferences are never fun for developers, but they are challenging when your team members are spread across distant time zones. When working with distributed teams, the likelihood of other team members staying up late to attend meetings is highly likely. Structuring your sprint retrospectives to a time that suits everyone is essential in staying connected and exchanging innovative ideas.
Keeping retrospectives short is also vital in avoiding meeting fatigue. Endless video conferences or meetings with no plan is a major productivity killer for developers. Leverage an agile project management solution to distribute a program several days in advance and specifically list anyone presenting recommendations and facts in the retrospective. This also lets facilitators become more prepared and know previous results.
5. Lack of Planning
There are occasions where teams don't plan retrospectives because they believe it consumes more time away from feature work. Failing to plan meetings often don't get conversations into the necessary deeper level that empowers actual progress. Although the short-term implications of rushing retrospectives are not especially visible, teams that do so may have their directions fragmented in the long run.
Plan retrospectives by creating a collaboration document that outlines what you did well, what you can do better, and the actions needed to achieve such things. Encourage each team member to write down each section so that you can uncover more insights and promote greater participation.
Starting Sprint Retrospective Meetings
Knowing why sprint retrospective is essential is a valuable process in applying agile because of its tremendous power to inspire change for team members involved. By having such meetings at intervals, you can discuss the positives and negatives of your existing processes so that you can improve your products. An excellent way to start conducting an engaging sprint retrospective meeting is to use an online retrospective and health check tool.
Timbo is a dynamic retrospective and health check tool designed for remote teams. It is powered by an interactive anonymous board that helps Scrum masters encourage participation and turn ideas into action points. Timbo has a lifetime free plan, but users can also opt for the paid unlimited and enterprise packages, which come with a 30-day free trial.
Timbo: designed by Scrum Masters for Scrum Masters