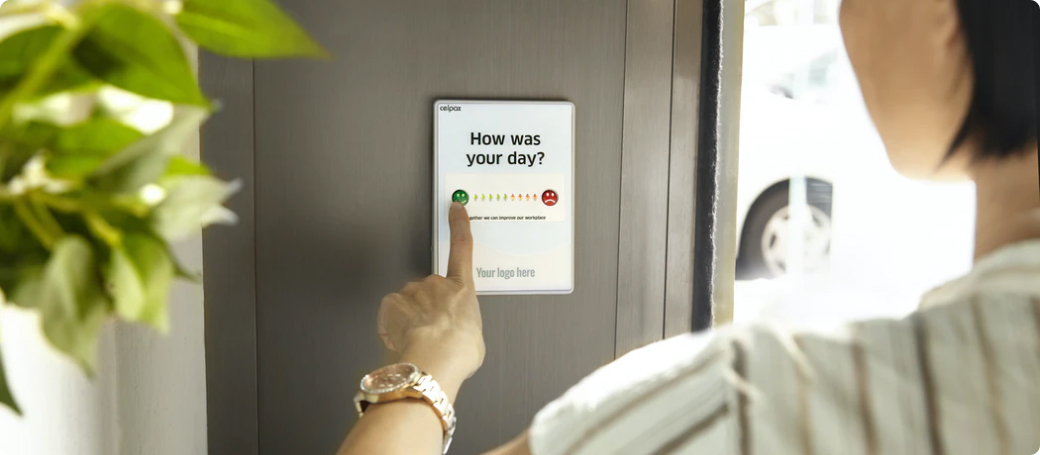 In our article 'Team health check: what is it and why should we measure it?' we discussed the importance of team health and morale monitoring for project success. Now it is time to find out how to measure team health and morale and how Timbo can help you with it.
Team health check meetings can be either a separate event where you focus only on this parameter or it can be a part of a sprint retrospective. In this case it can help you see a big picture of your team's well-being and get some clues for improvements as an outcome action points of the retrospective.
At Timbo we usually use health check exercises as a part of retrospective. It helps us to track the changes in measurements, follow dynamic and keep all the results saved in the system. Usually we start with a Team health check exercise.
This technique was suggested by Spotify and now it's widely used in different companies. The idea is to assess anonymously 5 main dimensions of the team work to see how the team is doing now and what the tendency is. The dimension with the lowest score and decreasing tendency is something to pay attention to as a team.
Team health check: how it works
We have chosen the following parameters of teamwork to be assessed as the most important for us, however the criteria can be customised:
💪 Process effectiveness
🎯️ Goals alignment and transparency
💬 Communication
⚡ Tech quality of product
🚀 Speed of work
Before you start, discuss with the team what each parameter means and what should be measured to make sure everyone's on the same page. Then start the assessment and set the timer (usually the exercise takes up to 2-5 mins).
Each team member should set a rate for each parameter in the list. For example, as a team member, I think that our process effectiveness is not so good and there is room for improvement. So I should choose 'Normal' rate. At the same time I can say that our process effectiveness became better compared to the previous sprint. So I should choose the 'Getting better' tendency.
Same flow should be done for all 5 parameters.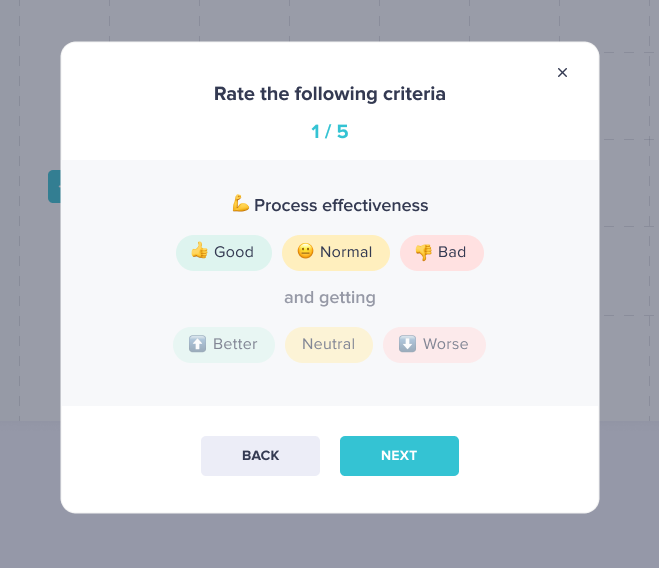 When the assessment is completed, all team members will see the anonymous results to discuss it. Let me show you the results of our real health check exercises on two latest retrospectives.
Sprint 15

Sprint 16

On the retro of Sprint 15 we can see, for example, that the quality of the product is not so good as there are lots of 'yellow' rates. We had taken some action points and commitments for the next sprint (performing earlier testing of the complicated functionality, adding some dev resources for bug fix, etc.). As you can see that in Sprint 16 the quality of our product became much better (all 'green' marks).
However in Sprint 16 we faced the issues in Communication (lots of 'yellow' and even 'red' rates). So this is our point of improvements for the next sprint. You know, in Scrum you will never stop processes improving, this is live :)
So Team health check exercise is best to see how your team members assess the working process and the product they work on. Sometimes it is also worth you inspecting how your team feels and what is their overall morale relating to their work on the project.In this case you can suggest Team morale check exercise for your team.
Team morale: how to check
This exercise will help you learn more about how each team member evaluates the work from personal satisfaction and professional growth perspective. Team should evaluate the level of enthusiasm and fun at work. Ex: How much is the team supportive? Is there enough of the new things to learn? Is feedback comprehensive? So this exercise is more about people rather than the project.
We have chosen 5 parameters to be scored (you can also edit for your own parameters):
🔥 Enthusiasm to keep going
❤️ Teamwork and support
🎉 Fun and joy
📖 Learning new things
💯 Comprehensive feedback.
Same as for Team Health check exercise, each Team member should measure each parameter and define the dynamics.
This is an example of our previous Retro:

As you can see, in general the team morale is high, but there's a lack of 'fun and joy' as well as 'learning new things' is missing. Keeping in mind these points, we decided to add some small talks at the beginning of our meetings to break the ice. Also we suggested taking some investigation tasks of new technologies or giving these team members more complicated and interesting tasks in each sprint.
We'll check Team Morale once again on the next retrospective and see if this helps to improve it.
Still working remotely? Check team's remote adaptation
One year has passed since we started working remotely. Mostly we get used to it, but still some working processes are more effective in the office. Remote adaptation exercise is a great way to learn if the team experiences any inconveniences due to working remotely or instead, being at home gives positive vibes and helps to work more productively.
We suggest assessing these indicators:
🔥 Engagement into process
🏠 Remote Communication
😎 Personal productivity
🙌 Support new things
❤️ Well-being

This exercise will help to check if your working processes work well on remote or whether anything should be changed. For example, to increase the engagement into the process we decided to use Timbo stand-up module for our daily scrum to add some fun and spirit of game to our daily stand-ups.
Conclusion
In conclusion, there are the most important points to take from this article:
Conducting team health checks is very beneficial both for your team and your project;
Continuous analysing of results and trends will help you to make your team happy and your project successful;
Make it a part of your process, attach to existing ceremonies if possible - thus it would be easier for the team to adopt them;
Remember that changes that would influence a team's morale won't happen in a day, so give it a time and check how your team's doing regularly and work-out data-driven action points;
Consider using predefined expert templates in Timbo.
Valentina Petrashkevich
Project Manager at IT Band Systems
KMP I IQBBA Certified
Timbo: designed by Scrum Masters for Scrum Masters